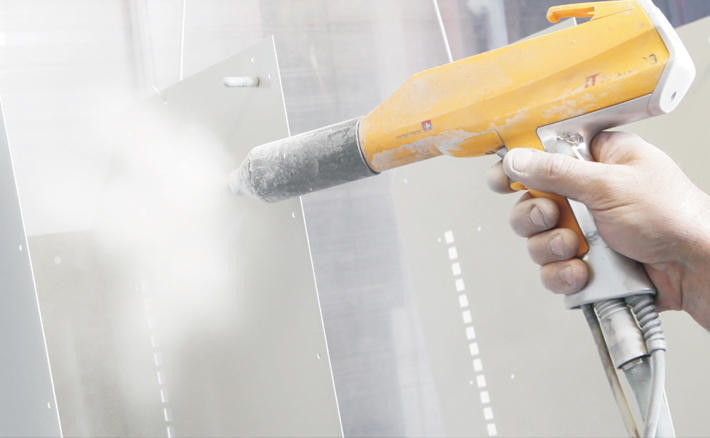 Aluminum powder coating: last finishing process but not least
Aluminum powder coating is only the last finishing work carried out by italpres before the delivery of the die-cast article: it is the most widespread surface treatment of aluminum and metals as it has considerable advantages compared to traditional coloring liquid.
Thanks to the aluminum powder coating process, the die-cast surface is protected against corrosion and against chemicals that could compromise its properties.The process consists in depositing on a die-cast manufactured article, through the effect of an electrostatic field, of the thermosetting resins which are subsequently melted and polymerized in special furnaces, in order to create a protective or decorative film.The coating of the die-cast piece can be applied in several layers to increase its strength, which is resistant to fading, scratching or chipping.
Aluminum processing: powder coating
Although aluminum powder coating is a widely used procedure in the industrial world, it is essential to rely on professionals like Italpres, able to ensure expertise and offer an excellent final result, lasting over time." Adherence, durability and resistance they are essential when it comes to painting diecast products, but in order to ensure that the die-cast product is perfectly painted, the quality of the piece must also comply with certain characteristics.The quality of the final result also depends on the quality of the die-cast piece. it should be optimized for painting and pretreated to be perfectly clean and to remove smudges.
Aluminum powder coating: an eco-sustainable process
In powder coating of aluminum, the resins, which do not adhere to the treated surface and are dispersed in the painting environment, are recovered and re-used, resulting in little pollution.
Do you have special requirements for powder coating of a die-cast piece of aluminum?
Contact italpres by calling 030 8970111 or fill out the form in the contact section of this site and you will be contacted as soon as possible.